Responsible Conduct in Research Training Instructions
Collaborative Institutional Training Initiative (CITI)
Texas A&M University-Commerce requires all individuals conducting/participating in research projects or working on externally funded projects  (including faculty, staff, postdocs, research assistants and students, etc.) to complete training for Responsible Conduct in Research & Scholarship.  This requirement is met by the successful completion of the online training module from the Collaborative Institutional Training Initiative (CITI) website.
All individuals, principal investigators, co-investigators, post-docs, research assistants, undergraduate and graduate students and all other personnel engaged in research must complete the CITI training modules and quizzes with a minimum score of 80%.  Successful completion of the course is required and the course may be repeated as necessary to achieve the 80% score.  At the time of completion, a certificate can be printed by the trainee and notification is sent to the Office of Sponsored Programs.
The time to complete the training modules may be 4-5 hours.  Individuals may exit and resume the training at anytime.  Once successfully completed, a refresher course is required every three years.  A notification will be sent to you prior to the expiration of your training.  At anytime, you may return to the training modules and print a certificate.
Begin January 1, 2010, successful completion of the CITI modules (protection of human subjects and responsible conduct of research) is required before submission of the Institutional Review Board Protocol Form for the Protection of Human Subjects.  Protocol forms will be reviewed only after the researcher has completed the CITI training. 
Steps to Register and Begin Your Training:
Access the CITI website link: https://www.citiprogram.org/
1. Log into CITI with Username and Password (If you do not already have a Username and Password, see Instructions for registering in CITI on this page.)
2. Go to the Main Menu
3. If needed, click on the blue bar for Texas A&M University-Commerce Courses
4. Select "Add a Course".
5. Go to Question 1 - Responsible Conduct of Research
6. Select a Responsible Conduct of Research course for either Biomedical, Social and Behavioral, Physical Science, or Humanities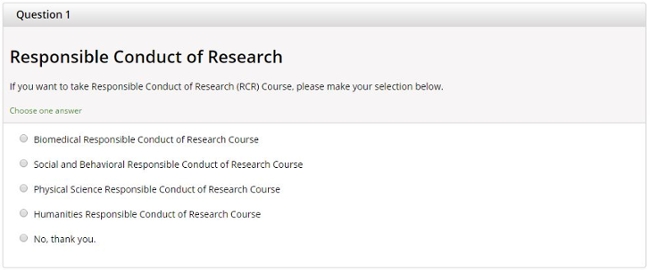 7. Select one learner group based on your role and the type of Human Subjects Research activities you will conduct.  Or, select "No, Thank you".  If you are conducting Human Subjects Research, please choose Social and Behavioral Research Investigators.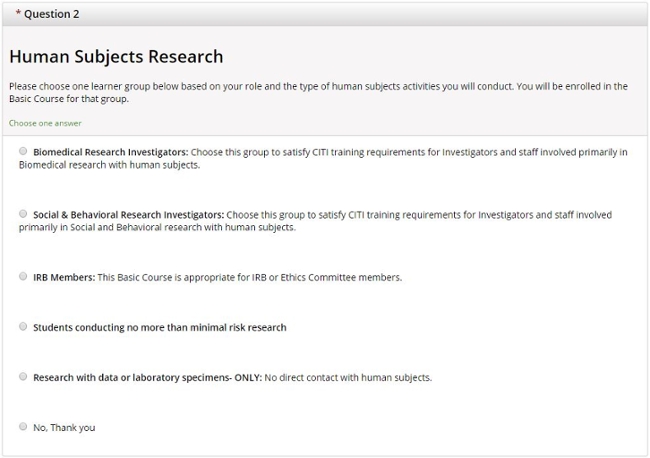 8. Select the Laboratory Animal Welfare type that you require for your research.  ANY research having involving animals REQUIRES the "Working with the IACUC" course.  If your research does NOT include animals, you may skip this question.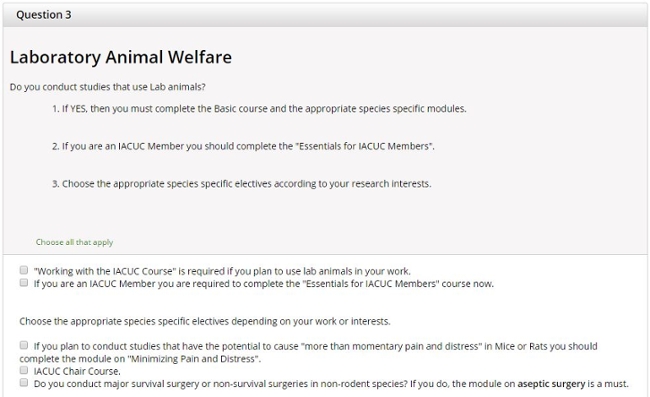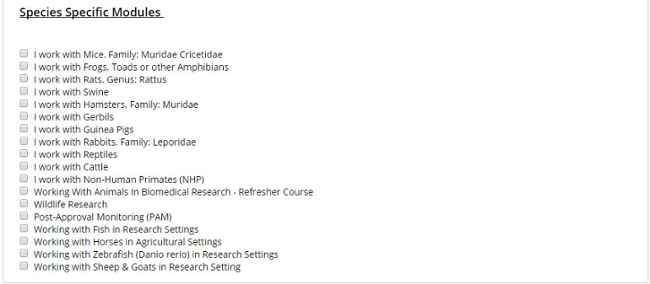 9. Select a Biosafety/Biosecurity course or choose "No, Thank you."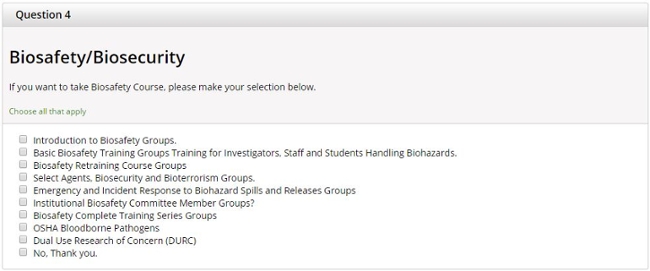 10. Select and Export Control course or choose "Not at this time."


11. Click Submit.
___________________________________________________________

Instructions for registering in CITI
Access the CITI Website Link: https://www.citiprogram.org/
Create an account by clicking "Register" in the top right corner of the webpage.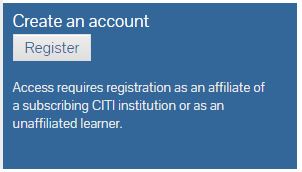 Select Texas A&M University-Commerce as your Organization Affiliation (Step 1)
Enter your first and last name and email address
Create a User Name and Password and select a security question and answer
Identify (or select to not identify) your Gender, Ethnicity, and Race
Select whether or not you wish to receive Continuing Education Unit credit for the courses (Note: A&M- Commerce does not pay for CEU. Unless you wish to pay for the credits please select no)
Provide required student information (Step 6)
Click "Register" in the Create an account section
Select Texas A&M University-Commerce as your participating institution
Complete the remaining registration form and questionnaire
Select the Learner Group that applies to you
Biomedical Responsible Conduct of Research Course
Social and Behavioral Responsible Conduct of Research Course
Physical Science Responsible Conduct of Research Course
Humanities Responsible Conduct of Research Course
___________________________________________________________
You are also required to complete additional training course if you are working with humans, animals, or biohazards and select agents.  See the appropriate web page for instructions for these trainings.
Research with Biohazards and Select Agents
Please contact the Office of Research & Sponsored Programs if you have questions at 903-886-5766 or ResearchCompliance@tamuc.edu