One Stop Shop
One Stop Shop
Our Team is Here to Serve You
Welcome to the Texas A&M University – Commerce's Student Access and Success One Stop Shop! This site, as well as the Student Access and Success Center, were both created to better serve you by attempting to provide as many resources as possible in one location.
Please visit the links to the left or stop by our physical location (2200 Campbell Street in Commerce, Texas) on the A&M-Commerce campus open from 8:00 am to 5:00 pm, Monday through Friday.
This year, our university will be celebrating 125 years of changing students' lives.  We consider it an honor to serve you and encourage you to let us know if we can assist you in any way.
If we can be of any assistance to you, please contact the One Stop Shop at 903-886-5000.
We Care Survey: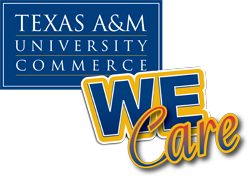 Your input is important to us! We want to make certain we are providing the level of service you expect and deserve. There are two ways to complete our survey:
Fill out/Print a Paper Version (PDF)
The online version sends your survey to WeCare@tamuc.edu. If you're unable to complete the online survey or want to submit a paper version, please fill out, print, and return the survey to the drop box located in the lobby of the Student Access & Success Center.
Thank you for your time!
Additional Helpful Links
The links below are all about helping you find the support you need to accomplish your goals here at A&M-Commerce!  Departments that are located physically in the One Stop Shop are linked on the top left of this page.  Other offices you might need are linked below.
If you still can't find what you are looking for, please call the front desk of the One Stop Shop at 903.886.5000 and we will help you find the information you need!
What our Students Have to Say… 
"Being here has given me the experience of being on my own, seeing the reality of things, and actually realizing that if I truly want my success I must continue to go after it. I enjoy being at TAMU-Commerce. Because it is a welcoming environment, I have made it my home away from home."
"This is an affordable university with a great atmosphere. I would suggest Texas A&M-Commerce to anyone looking for an affordable, well-rounded college. The professors and staff are very friendly and love to work with the students."