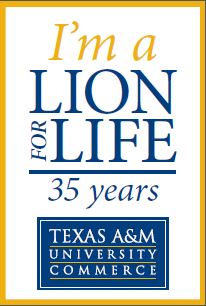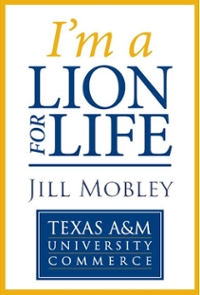 What is Lions for Life?
Lions for Life is a group of alumni and friends who maintain a pattern of annual giving to A&M-Commerce. Some donors make several gifts each year while others make just one. Donors who support A&M-Commerce with at least one gift to any designation for three or more consecutive calendar years are recognized as a member of Lions for Life. Recognition as a Lion for Life is renewed each year.
Why Lions for Life - doesn't tuition pay for everything that is needed?
As a state institution, A&M-Commerce receives funds from three sources: the state legislature, students' tuition and fees, and the generous contributions from our alumni and friends! Even though we are a member of the Texas A&M University System, we do not receive financial support from College Station or the System itself.
State support is expected to decline in the coming years. In fact, this year alone we have been asked to cut our budget by 4%! In order to keep our university affordable for our students, private support from our alumni and friends is critical in sustaining our reputation as one of the state's top providers of education.
How will my gift be used?
YOU decide how your gift is designated by indicating the college, department, program, or scholarship you would like to support. Can't decide? You even have the opportunity to support the Greatest Need Fund and give help where it is needed most.
No matter HOW you give to the university
you always have the opportunity to decide how your gift will be used.
Is it really important to make a gift ­

every

year?
YES! Alumni giving rates are one of the seven primary criteria U.S. News and World Report uses for its college rankings. By giving to A&M-Commerce, you ensure our ranking continues climbing, and the value of an A&M-Commerce degree continues growing.  Whether you know the campus as "Old ET" or A&M-Commerce, making a gift is a way of saying "thank you" and offering your support to current Lions.
How can I become a Lion for Life?
It's easy! All you have to do is make a gift of any amount, once a year, for at least three consecutive years – we will do the rest.  As one of our most loyal supporters, you will receive a new window decal each year, specific to your years of participation in support of A&M-Commerce students, faculty and programs.
NEW THIS YEAR is an opportunity to receive a personalized digital Lions for Life decal to share your Lion support via social media and let everyone know why OUR PRIDE RUNS DEEP! Will you be the first Lion for Life to display a 50-year sticker?
What if I have additional questions?
For questions regarding the Lions for Life program or other ways to support the university, please contact Iris Beare at donate@tamuc.edu or 903-468-8181.